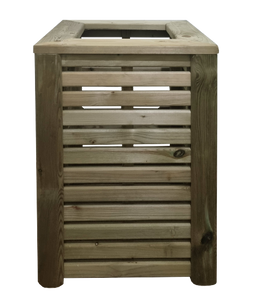 A tall wooden slatted planter designed to perfectly accompany the Tempo range. Ideally suited as a pair to an entrance or walkway, or as a singular piece.
All timber is planed 45 x 14mm with two rounded corners to the face.
The planter comes pressure treated.
Some assembly required.
Free Delivery as standard!
---
We believe that design-led garden products should be accessible and affordable for all. With over 35 years of experience in the fencing and landscape industry, we have the knowledge and the expertise to bring your garden vision to life. We can use our wealth of experience to advise you on the best possible solutions to your projects and our prices are second to none. Get in touch if you need help at any point in the ordering process.